Mark your calenders! Saturday, June 18th is the first annual Rockabilly Luaua!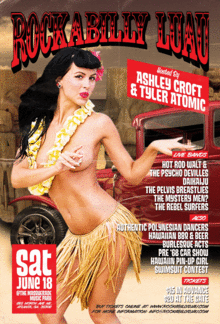 Featuring Atlanta rockabilly giants The Psycho Devilles:
For more info and/or to purchase tickets, click here:
(if you are at work, turn your speakers down, the music starts right away)
All proceeds go to local pit-bull rescue groups.
There will be hula dancing, tiki carving, and a Pre-68 Car show!
Check it out, June 18th at the Masquerade.
The Masquerade Music Park
695 North Ave NE
Atlanta, GA 30308
www.masq.com
Noon-8:00pm